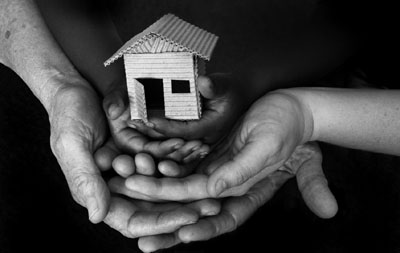 A home is the largest purchase most people make in their lives and is the type of investment that must be made wisely. Understanding how to buy a home properly is important. Just like other big ticket items, there are steps and proper channels which must be taken in order for the process to go through smoothly. Harrisonburg, Virginia presents the perfect opportunity for both first-time and experienced homebuyers. With a charming main street and peaceful suburbs, it is a great place to raise a family. Additionally, its proximity to Richmond and Washington DC allows suburban living with access to big-city amenities.
The first step in purchasing a new home is to assess your personal finances. How much you have available for a down payment and how much you are able to afford to pay for a mortgage each month are two key items to look at. For a conventional mortgage, look to place at least 10%-20% down on a home, meaning that if you have $10,000, your basic price range will be $100,000 – $150,000. There are other programs out there that require little to no money down, so if cash is a problem you still have options. Contact Jeremy Litwiller, your Harrisonburg Realtor, to find out more about these low down payment options. Next, calculate your monthly gross income. Home lenders will typically not grant loans which cost in excess of 40% of your gross income per month. This calculation includes the mortgage, property tax as well as insurance costs. Luckily, Harrisonburg boasts fairly low property taxes and insurance rates.
Once the calculations have been completed, make appointments with several local lenders and choose which one best suits your needs. Follow the steps necessary to get pre-approval on a loan amount and then you're ready for the fun stuff! Real estate shopping can be the most exciting experience for some, and the most painstaking for others. The key is to look at homes only in your price range and be realistic with your expectations. Harrisonburg's real estate prices are relatively low and can come with a lot of amenities. Search for homes featuring the right number of bedrooms and amount of space for your family. Keep in mind that houses can be easily customized after they are purchased. Painting walls and/or changing out carpets are fairly inexpensive ways to spruce up a house that may seem outdated.
Once your Real Estate Agent has helped find a home that suits you, it's time to sit down to write an offer. You will discuss things like home inspections, financing contingencies, and also be prepared to place an initial deposit to prove your interest. This deposit is usually based on the value of the home and can range anywhere from $1,000 to $10,000. The next step is to wait patiently to hear back from the sellers.